ATTN: NEW WEEKDAY HOURS

PLEASE CALL AHEAD TO CHECK FOR OPEN PLAY AVAILABILITY AS WE ARE NOT ALWAYS AVAILABLE DUE TO PARTIES AND EVENTS!!!
HOURS OF OPERATION

PLEASE BE ADVISED IT IS ALWAYS BEST TO CALL TO CHECK FOR OPEN PLAY AVAILABILITY.

Mon- Friday: 4pm - 8pm
AFTERNOON APPOINTMENTS AVAILABLE BUT MUST CALL AHEAD TO SCHEDULE.

Wed: Available for groups and parties by appointment only (no open play available)

Saturday: 11pm - 8pm (best to call for open play availability)

Sunday: Westmoreland: 11pm - 5pm (best to call for open play availability)
Appointments


Please be advised that Parties have been booking up quick. Please call and schedule as soon as possible to secure your date and time.

For group rates please call and schedule at least one day in advance.
Party Arrival


For all parties it is best to have all guest arrive 15 minutes prior to start of the party to get checked in and to go over all the rules to allow for a prompt start to maximize play time.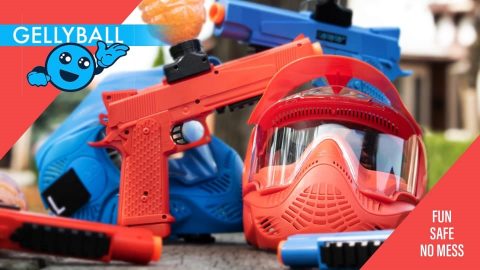 Now offering Gellyball as an option for our offsite parties.
Please call for pricing!!
Gellyball is a new revolution in the world of shooting games that is very similar to Airsoft or Paintball but much more low impact. The soft, water-based gellyballs bounce off of their target leaving no stain, mess or sting. Unlike Nerf where it takes time to reload often, gellyball blasters hold around 700 shots without reloading! They're easy to shoot, we can set up virtually anywhere, and they can provide hours of fun!
Recommended for ages 5 and up.

Knockerball is sweeping the nation! Get ready to DEFY gravity, have some laughs and get a great workout. Knockerball Bubble Soccer is THE Perfect addition to any celebration or just get a group of friends together for some fun. Knockerball is great for birthdays, corporate events, bachelor or bachelorette party, or just team building. You can come play at our location in Westmoreland mall or we can bring the party to you. Lets have some fun and Get in the ball!!
Price is per person (may want to call to confirm availability)

$5 for one session
$8 for two sessions
$15 for four sessions

You will get tired quick and are allowed to take breaks between sessions.
Westmoreland up to 20 kids.


For Fridays, Saturdays or Sundays price is $275 for 2 hours, 32 slices of Pizza (2-16 cut) and unlimited bottled water from fridge.

Mon-Thurs evenings we offer discounts of $250 for 2 hours, 32 slices of Pizza (2-16 cut) and unlimited water from the fridge.

Extra pizza is available for additional cost.

OFFSITE PARTIES AND EVENTS AVAILABLE!
Please contact us for pricing
If you have a group of 4 or more you can play for 1/2 hour for just $10 a person or 1 hour for just $15 per person.

YOU MUST CALL TO RESERVE YOUR TIME!!